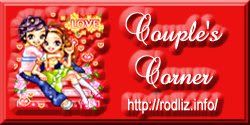 Wow it's Couple's Corner day again. How did I miss last week's topic? Too bad I wasn't able to write about that, I was really anticipating to join last week's CC for I got so much to tell about me being a mother, of course I would only tell what my husband says about me.
Anyways, I am glad that I am back on track now. I somehow thought that CC will be every Friday? Just recently I received a compliment from my husband about me being thoughtful. Naks, heart flattering it is but I don't know that. I just have to be me when he's around. I don't cook him dinner, he does his own dinner even after working ten-hour shift everyday. All I do is fix him breakfast on his day off. I make sure he's still on the computer and bring the food in his study so he doesn't get starved while reading his news.
A friend of his visited us 3 weeks ago and he gave me the same compliment after handling him his slippers outside so he can be comfortable. My husband sure heard what his friend said and I believe, these men sure are grateful for they appreciate every little thing I did to them. There are so many things he think I am too busy to write them all right now..